Hubodometer Brackets
'Strap' Style Mounting Brackets available for a variety of vehicle hub configurations. Please ask for specific information for your bus, truck or trailer.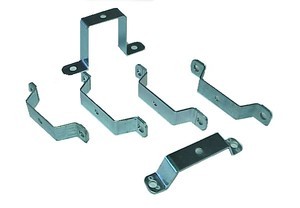 Hubodometer Mounting Hub Caps for any Fleet
STEMCO have provided the trucking industry with reliable hub caps for more than 60 years. Throughout their history, they have recognized the need for tougher, long lasting hub caps that meet the performance, design and price requirements related to selecting the right hub cap for any fleet. To meet that need, STEMCO have engineered a menu of hub cap options designed to meet the varying performance expectations of each fleet, all in an effort to maximize performance and value.
Stamped Steel Hub Caps
STEMCO Stamped Steel grease hub caps are manufactured from 14 gage steel and have a protective yellow chromate plating with a clear lacquer coating for additional protection from corrosion. For synthetic base grease, use the vented 340-5096 version cap. For petroleum base grease, use the non-vented 340-5097 hub cap.
PLEASE NOTE: Integrated Axle Cap Assemblies are available to special order only.